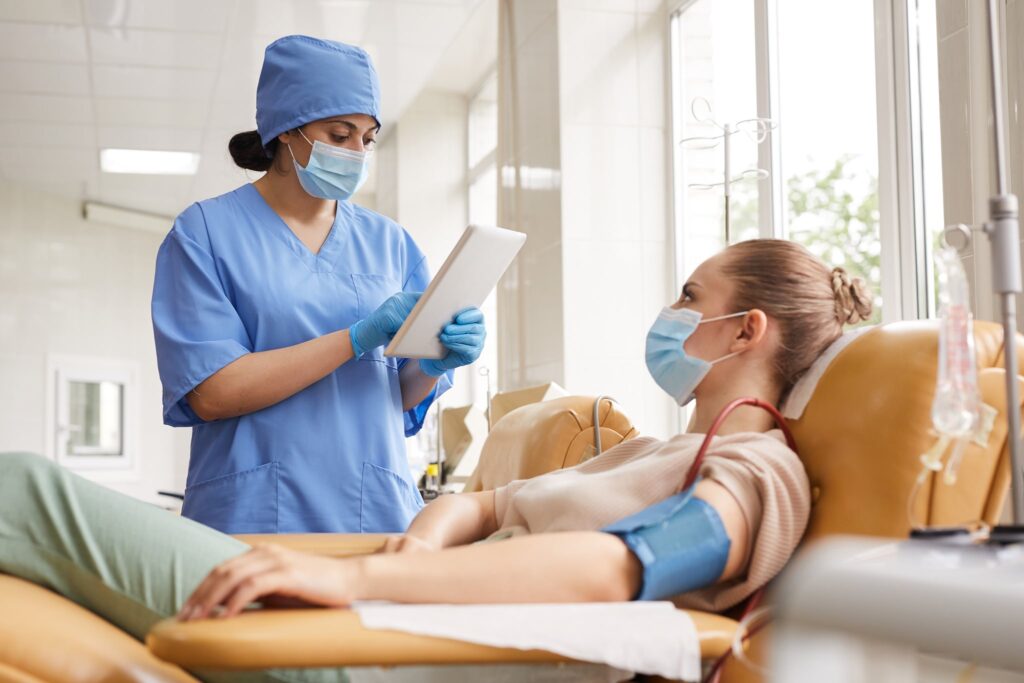 School breaks and increased travel have caused a dramatic decrease in blood donations; types O and B have dropped to 1-to-2-day level
🩸 DONATE BLOOD at Rab's, June 15, 2022! – Click here for details.
NEW YORK – New York Blood Center (NYBC) announced a blood emergency today, as school spring breaks and holiday travel have caused an alarming drop in donations over the past six weeks. All blood types are low and type O is at just a 1-to-2-day level.
This shortage occurs amid increasing COVID rates, which can be attributed to the highly contagious Omicron subvariant BA.2.12.1 that has been spreading rapidly throughout New York and surrounding areas. For example, New York City's COVID transmission rate has increased 32% in the last 10 days. Last Monday, the city raised its COVID alert level to medium as cases surpassed a rate of 200 per 100,000 people in the five boroughs.
Hospitals and patients rely upon a steady flow of volunteer donors to receive life-saving blood donations, but the recent spike in cases and spring break travel have caused uncertainty. Donor participation has reached record lows at blood drives and donor centers.
"This time of the year always tends to be difficult for the blood supply, with school spring breaks and increased travel making blood donations less of a priority. These factors are now coinciding with increasing COVID cases and a potential fifth wave of the pandemic," said Andrea Cefarelli, Senior Executive Director at New York Blood Center. "One blood donation has the ability to save up to three lives. We highly encourage all who are able to donate today to help New Yorkers who need it most."
It only takes one hour to donate, and a single donation can save multiple lives. Roughly one in seven hospital admissions require a blood transfusion. Those in need include: cancer patients, accident, burn, or trauma victims, transplant recipients, surgery patients, chronically transfused patients suffering from sickle cell disease or thalassemia, and many more.
To make an appointment at this blood drive, donors can call 1-800-933-2566 or visit by visiting nybc.org.
# # #
About New York Blood Center: Founded in 1964, New York Blood Center (NYBC) is a nonprofit organization that is one of the largest independent, community-based blood centers in the world. NYBC, along with its operating divisions Community Blood Center of Kansas City, Missouri (CBC), Innovative Blood Resources (IBR), Blood Bank of Delmarva (BBD), and Rhode Island Blood Center (RIBC), collect approximately 4,000 units of blood products each day and serve local communities of more than 75 million people in the Tri-State area (NY, NJ, CT), Mid Atlantic area (PA, DE, MD, VA), Missouri and Kansas, Minnesota, Nebraska, Rhode Island, and Southern New England. NYBC and its operating divisions also provide a wide array of transfusion-related medical services to over 500 hospitals nationally, including Comprehensive Cell Solutions, the National Center for Blood Group Genomics, the National Cord Blood Program, and the Lindsley F. Kimball Research Institute, which — among other milestones — developed a practical screening method for hepatitis B as well as a safe, effective and affordable vaccine, and a patented solvent detergent plasma process innovating blood-purification technology worldwide.