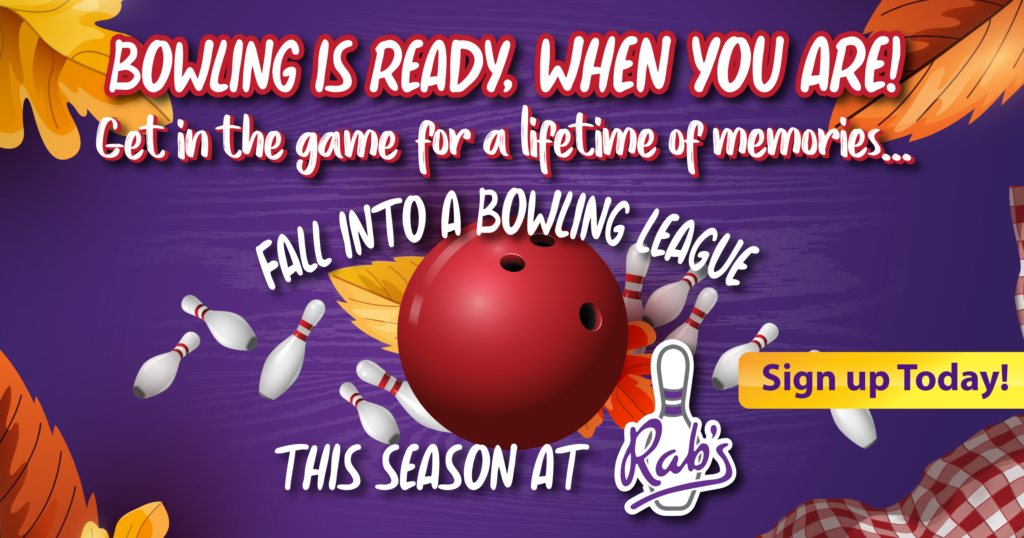 2021-2022 Fall/Winter Season League Schedule
*Fall Leagues bowl from September to May, starting after Labor Day, unless otherwise noted. Click league name for details.
---
Mixed Leagues
Once-A-Month Mixed Leagues
Join in on the fun with less commitment!

Senior Leagues
Day & Time
League
More Info
Monday
10:00 AM
Golden Oldies
League Stats
Tues. & Thurs.
9:30 AM
Rab's Senior Men's Club
Ladies Evening Leagues
Day & Time
League
More Info
Tuesday
6:45 PM
Rab's Girls
League Stats
Ladies Daytime Leagues
Men's Leagues
*Women Welcome

Day & Time
League
More Info
Monday
8:30 PM
Holy Spirit
League Stats
Monday
8:30 PM
Rab's Scratch Draft Classic*
League Stats
League Details
Tuesday
6:45 PM
Fire Extinguisher Maintenance Co.
& Rab Wilkinson Memorial Men's League
League Stats
Tuesday
9:30 PM
Mike Massaroli Memorial Men's League*
League Stats
Wednesday
6:45 PM
All Pro Electric of NY Men
League Stats
Thursday
6:45 PM
Richmond County American Legion
-McGuire Men
Family Leagues
Day & Time
League
More Info
Sunday
9:30 AM
Rab's Family Fun
League Stats
Fun Leagues
Looking for a new Night Out? Get in the Game… Perfect for Beginners!

I would like to join a Bowling League at Rab's!
By completing this form you are showing interest in joining a bowling league at Rab's Country Lanes. If you have any questions or concerns, please do not hesitate to contact: Nazareth Laursen, (718) 979-1600, leagues@bowlatrabs.com.