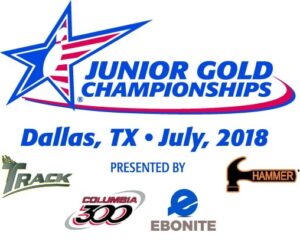 Day 3 of the Qualifying Round at the Junior Gold Championships in the books.  One more day of qualifying continues tomorrow with the final 4 games before the field will be cut for the next round of competition.
Anthony Mastroianni continues to lead the pack of bowlers, having moved up to 19th place in the U15 Boys Division after a great 796 set on the lanes.
Maya Avilez is holding her own in the U15 Girls Division, staying close to the cut line.  After a consistent set of 180 games, Maya found herself moving up 1 spot in the standings to 33rd place.
William Courtney found himself jumping up 58 spots to 984th place out of 1495 Boys in the U20 Division, after rolling a 223 game to round off his third day of qualifying.
Christopher Riordan pulled out of competition due to an injury on the second day of qualifying, we wish the best to Christopher on a speedy recovery!
Good Luck to all on their last day of qualifying competition!
QUALIFYING ROUND, AFTER DAY 3, 12 GAMES:
U12 Division – Field Size: 284 Boys / 141 Girls
BOYS
68 – Joseph Guarnieri 143, 157, 139, 155-594 | 1905
139 – William Kohnenkamp 141, 119, 131, 143-534 | 1753
GIRLS
39 – Brianna Mester 189, 127, 136, 144-596 | 1885
82 – Ashley Weisenstein 149, 122, 129, 166-566 | 1678
U15 Division – Field Size: 672 Boys / 382 Girls
BOYS
19 – Anthony Mastroianni 180, 196, 228, 192-796 | 2389
201 – Brandon Leung 165, 144, 155, 145-609 | 2133
300 – Nicholas Palmeri 160, 155, 147, 147-609 | 2056
319 – Victor Guastella 210, 155, 221, 148-734 | 2040
496 – Frank Koppie 171, 191, 223, 179-764 | 1910
667 – Cody Bass 164, 130, 147, 113-554 | 1486
GIRLS
33 – Maya Avilez 181, 183, 183, 182-729 | 2151
U20 Division – Field Size: 1495 Boys / 855 Girls
BOYS
984 – William Courtney 151, 174, 155, 223-703 | 2053
1095 – Joseph Nadal 209, 183, 167, 134-693 | 2021
1108 – Kenneth Courtney 134, 204, 147, 178-663 | 2019
1292 – Jonathan Guash 183, 172, 125, 186-666 | 1932
1383 – Jason Wichnovitz 152, 148, 164, 159-623 | 1866
GIRLS
208 – Taylor Waglione 170, 192, 188, 182-732 | 2173
349 – Lexis Ortiz 133, 158, 173, 133-597 | 2084
547 – Autumn Fortunato 183, 177, 201, 136-697 | 1983
751 – Jessica Fetik 145, 129, 168, 157-599 | 1835