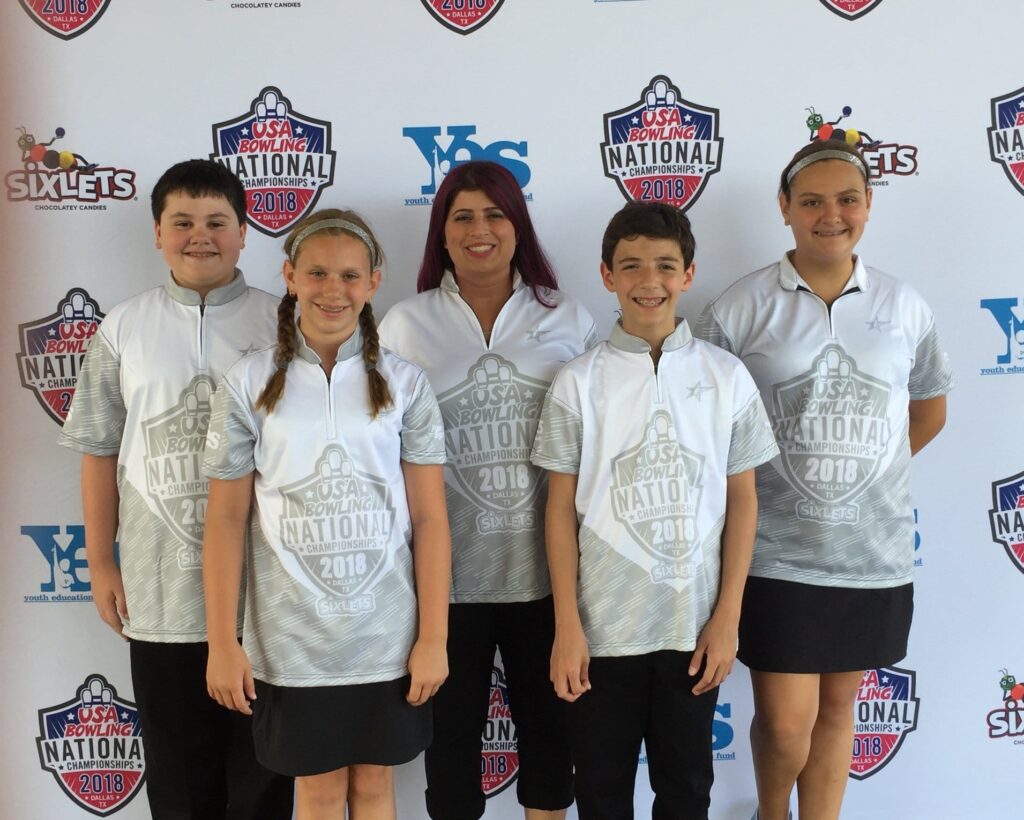 After a loss in the USA Bowling Northeast Regional Tournament finals held in December at Rab's Country Lanes, Mel's All Stars; a team comprised of Joseph Guarnieri, William Kohnenkamp, Brianna Mester, and Ashley Weisenstein, w/ Coach Melissa Kammerer; was determined to advance to the National Finals.
The team then made the trip to the New England Regional Tournament in Rhode Island, where they eventually found themselves crowned the U12 Champions and headed to the National Finals in Dallas, TX.
The 2018 USA Bowling National Championships, sponsored by Sixlets, features the top 12-and-under (U12) and 15-and-under (U15) youth teams competing for a national title.  The 14 U12 teams and 16 U15 teams earned their spots in the field by winning a regional event.
Day 1 of competition included a Round Robin Format where each team bowled a total of 13 matches head-to-head against each other.
Teams in the U12 division bowled 13 Baker matches Wednesday at AMF Garland Lanes to determine seeding for Thursday's double-elimination bracket, while teams in U15 bowled 15 Baker matches.
A team's match-play record in qualifying determined its seeding, with total pinfall breaking any ties.
Mel's All Stars finished the Qualifying Round with a 6-7 record, for a 10th Place finish headed into the double-elimination bracket finals.
Off to a slow start, they lost the first match by 4 pins (181-185), won the 2nd by 18 (198-180) and then finished off with a bang winning the 5 of the last 7 games.
Qualifying Round Recap:
181 (L), 198 (W), 150 (L), 176 (L), 150 (L), 171 (L), 186 (W), 186 (W), 209 (W), 178 (W), 204 (L), 210 (W), 175 (L) – Total: 2374 | 6-7
The double-elimination portion of the event was contested Thursday at nearby USA Bowl.  Bracket matches were contested in a best-of-three Baker format.
After a great start in the Winners Bracket, the team representing the Southwest handed Mel's All Stars their first loss, the Southwest continued their run and eventually made their way to the televised Finals.
Round 1 – Winners Bracket
New England defeated Mountain 2-0 | 164 & 160 to 151 & 159
Round 2 – Winners Bracket
New England defeated Atlantic East 2-1 | 203, 125, 209 to 159, 200, 172
Round 4 – Winners Bracket
Southwest defeated New England 2-0 | 180 & 194 to 153 & 173
Round 5 – Losers Bracket
Southeast defeated New England 2-1 | 215, 157, 223 to 189, 190, 204