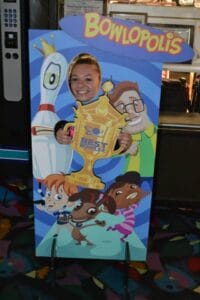 Who's ready for the event of the summer? That's right… it's time for our annual Bowlopolis Blast Off at Rab's Country Lanes again!
If you came to our Bowlopolis Blast Off event last year, there's no need to tell you how much fun is in store. But in case you haven't experienced it yet, here's the inside scoop!
Biggest Bowling Event of the Summer
Come hang out at Rab's Country Lanes on August 15 from Noon to 5 p.m. and prepare to blast off into one of the best days all summer long.
We'll have a ton of fun lined up for all kids ages 16 and under, including:
Free Bowling

Face Painting

Games

Prizes

And More!
Big Saving on Birthday Parties!
That's not all, though… We also want to help you have as much fun as possible for even less money than usual! On top of the celebrations already going on during the Bowlopolis Blast Off, you'll receive 10% off of your entire bill if you have your child's birthday party here at Rab's during Bowlopolis!
Ready to Bowl? Let's Recap
Starting at 12 p.m., August 15th, and going until 5 at night, we'll be offering free bowling to all kids ages 16 and under (including shoe rental), plus games, prizes and so much more! If there's a way to pack more fun into a single summer day, we haven't found it yet!
Give Rab's Country Lanes a call for general information or to find out more about the birthday party specials during our Bowlopolis Blast Off Extravaganza!