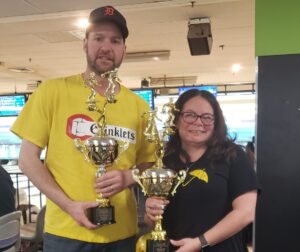 Rab's is proud to announce Michele Sweeney and Jason Todaro as the 2023 Champions of the Annual Valentine's No-Tap Mixed Doubles Tournament.  The 2023 tournament, held in memory of Iona Weisenstein, was a resounding success, attracting a record number of teams from across the tri-state area.
Michele and Jason's outstanding performance, defeating 186 teams of duos, led them to victory, with a total team score of 1723.  Michele rolled an impressive 865 series, matching up with Jason's 858 three-game set.  They were presented with the Iona Weisenstein Memorial Cup, along with a prize of $1,200 for their win.
Heather Medoro and Pete Tirado finished in second place with a total score of 1706, while Kristina Fritsch and Steven Bonanno rounded out the top three with a 1705 total series.
During the tournament, three bowlers, Michele Dash, Kristy Pizzimenti, and Jennifer Jansen, rolled perfect 900 no-tap series en-route to their finishes. Jennifer Jansen even rolled two during the event.
"We are thrilled with the success of this year's Annual Valentine's No-Tap Mixed Doubles Tournament," said Nazareth Laursen, Tournament Director.  "We were honored to hold this event in memory of Iona Weisenstein, who loved this event and competed annually, and we are delighted that so many bowlers came out to bowl."
For full results, visit: https://bowlatrabs.com/bowling/tournaments/annual-valentines-no-tap-mixed-doubles-tournament/
For more information on upcoming tournaments and events, check out the Up-Coming Events and Tournament Pages here at bowlatrabs.com.