By Danielle Wiseman, the Staten Island Chamber of Commerce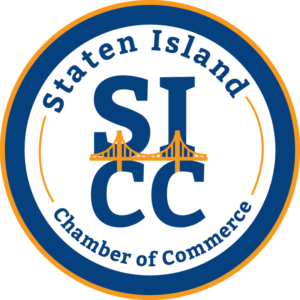 On Tuesday, September 21st, the Staten Island Chamber of Commerce held its fall Member Meetup, "Roll Down to Rab's," co-sponsored by Aurora Computer Technology and Rab's Country Lanes. Approximately 50 Chamber members gathered at Rab's on Tuesday for an evening of networking, appetizers, and, of course, bowling.
The event kicked off in the charming High Roller's Lounge, a hidden gem at Rab's featuring an extensive bar, lounge area, and pool tables. Rab's also generously provided food and drinks for event attendees.
Linda Baran, President and CEO of the Staten Island Chamber of Commerce, started her remarks by thanking hosts Frank Wilkinson, owner of Rab's Country Lanes, and Pat Buono, owner of Aurora Computer Technology. She continued by introducing new members Caileen Gonzalez of Tiny to Tall Tutoring, Dr. Ife Akinsheye Damon of The Community-Based Education Movement, and Irina Portnova of Life Palette Coaching.
Frank Scarangello, Chairman of the Board of the Staten Island Chamber of Commerce, provided additional commentary during the new member introductions, asking questions and offering words of support. "Listen, you have to come to these events, mix, and make it fun," says Scarangello. "The Chamber has a ton of unique, new businesses that a lot of us old folks aren't quite aware of yet, and that's why we're here. There are a bunch of people in this room who have a lot to share with us, and we want them to share. We push them to share!"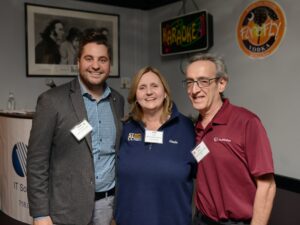 Members ended the night with some hearty rounds of bowling, bonding with familiar and unfamiliar faces alike. Thank you again to Rab's Country Lanes and Aurora Computer Technology, and we hope to see you at the next Member Meetup!
A photo gallery from the event can be viewed by clicking here along with the full story. All photos by Steve White, Staten Arts Photography.