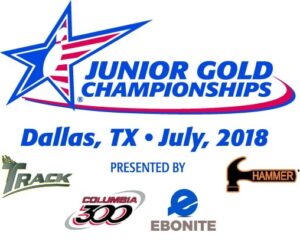 The final qualifying round of the 2018 Junior Gold Championships concluded Thursday with the final 4 games of competition.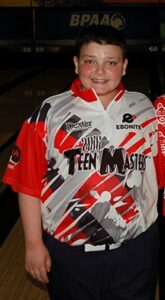 Anthony Mastroianni lead the group of competitors from Rab's with a 3045 16-game series and a 57th place finish in the U15 Boys Division.  He will advance to Friday's Advancer Round.
Maya Avilez fell just 5 pins shy of the Advancers Round, finishing with a 2773 total and a 59th place finish in the U15 Girls Division.
Below is a recap of all of the competitors from Rab's who competed this week.  Congratulations to all on a fantastic week of competition.
Stay tuned for more as Anthony continues his quest!
U12 Division
BOYS – Cut Score: 2652, 40th place
71 – Joseph Guarnieri 178, 144, 156, 184-662 | 2567
135 – William Kohnenkamp 127, 151, 186, 148-612 | 2365
GIRLS – Cut Score: 2591, 21st place
38 – Brianna Mester 150, 150, 166, 118-584 | 2469
91 – Ashley Weisenstein 125, 108, 118, 128-479 | 2157
U15 Division
BOYS – Cut Score: 2972,  96th place
57 – Anthony Mastroianni 173, 190, 143, 150-656 | 3045
155 – Brandon Leung 222, 212, 150, 191-775 | 2908
214 – Nicholas Palmeri 186, 203, 185, 199-773 | 2829
381 – Victor Guastella 150, 155, 171, 156-632 | 2672
558 – Frank Koppie 162, 137, 158, 108-565 | 2475
659 – Cody Bass 213, 126, 135, 124-598 | 2084
GIRLS – Cut Score: 2778, 55th place
59 – Maya Avilez 204, 156, 134, 128-622 | 2773
U20 Division
BOYS – Cut Score: 3068, 213rd place
1046 – Kenneth Courtney 156, 175, 157, 199-687 | 2706
1054 – Joseph Nadal 179, 156, 165, 181-681 | 2702
1154 – William Courtney 140, 177, 139, 147-603 | 2656
1170 – Jason Wichnovitz 169, 205, 227, 182-783 | 2649
1419 – Jonathan Guash 130, 119, 112, 128-489 | 2421
GIRLS – Cut Score 2968, 123rd place
192 – Taylor Waglione 190, 169, 167, 210-736 | 2909
340 – Lexis Ortiz 118, 147, 189, 246-700 | 2784
629 – Autumn Fortunato 125, 161, 149, 161-596 | 2579
725 – Jessica Fetik 158, 192, 149, 157-656 | 2491