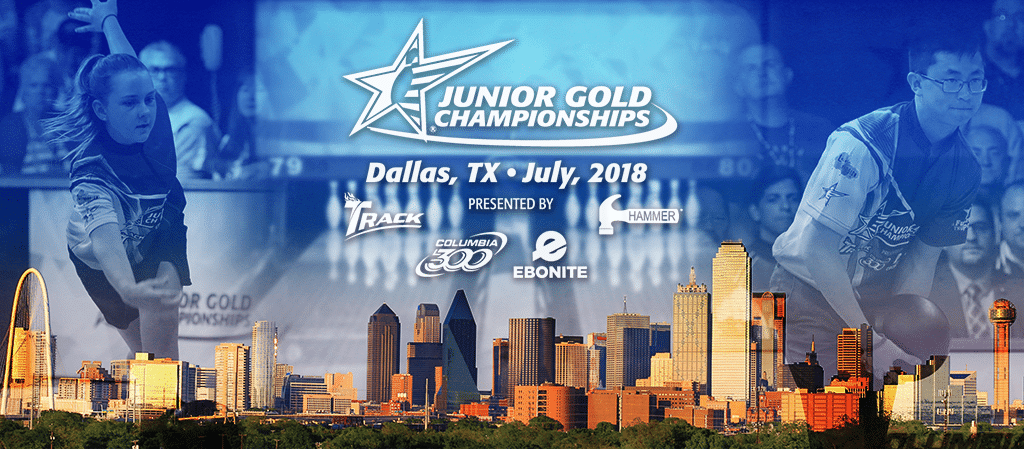 Qualifying Rounds at the Junior Gold Championships in Dallas, TX continued yesterday where 21 youth bowlers from Rab's continued their journey.
Anthony Mastroianni, in the U15 Boys Division, leads the pack rolling an 818 series on Day 2 for a 1593 8-game total, where he currently sits in 31st place our of 672 competitors.  Brandon Leung, not too far behind in 81st place rolled 790 to an 1524 total.  96 bowlers in this division after the 16 games of qualifying will advance to the Advancers Round.
Maya Avilez added a 644 series to her qualifying round scores, after ending Round 2 with a huge 248 game, keeping her in the hunt to advance to the next round in the U15 Girls Division.
Brianna Mester and Joseph Guarnieri are keeping pace in the U12 divisions.  Joseph started day 2 off with a 236 game while Brianna rolled a 689 series to add to her total.
Best of Luck to all the athletes as they compete this week!  Stay tuned for updates as competition continues.  Bowlers will bowl 16 games in the Qualifying Round before the Advancer Rounds.
Complete scores and information about the event can be found at: https://www.bowl.com/juniorgold/ 
QUALIFYING ROUND, AFTER DAY 2, 8 GAMES:
U12 Division – Field Size: 284 Boys / 141 Girls
BOYS
50 – Joseph Guarnieri 236, 153, 141, 142-672 | 1311
109 – William Kohnenkamp 157, 168, 121, 122-568 | 1219
GIRLS
27 – Brianna Mester 147, 214, 163, 165-689 | 1289
78 – Ashley Weisenstein 141, 134, 182, 136-593 | 1112
U15 Division – Field Size: 672 Boys / 382 Girls
BOYS
31 – Anthony Mastroianni 219, 200, 165, 234-818 | 1593
81 – Brandon Leung 145, 219, 217, 209-790 | 1524
168 – Nicholas Palmeri 178, 168, 175, 173-694 | 1447
424 – Victor Guastella 182, 166, 177, 145-670 | 1306
630 – Frank Koppie 113, 156, 147, 126-542 | 1146
670 – Cody Bass 110, 101, 153, 115-479 | 932
GIRLS
34 – Maya Avilez 120, 108, 168, 248-644 | 1422
U20 Division – Field Size: 1495 Boys / 855 Girls
BOYS
1020 – Kenneth Courtney 164, 183, 147, 188-682 | 1356
1042 – William Courtney 167, 150, 153, 190-660 | 1350
1139 – Joseph Nadal 144, 189, 125, 255-713 | 1328
1310 – Jonathan Guash 138, 153, 213, 158-662 | 1266
1363 – Jason Wichnovitz 156, 161, 167, 180-664 | 1243
GIRLS
140 – Lexis Ortiz 200, 149, 161, 197-707 | 1487
230 – Taylor Waglione 198, 176, 197, 183-754 | 1441
612 – Autumn Fortunato 161, 179, 129, 147-616 | 1286
699 – Jessica Fetik 178, 194, 171, 129-672 | 1236