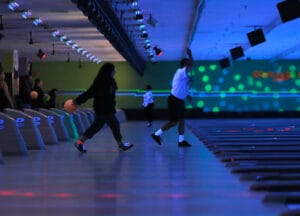 Valentine's Day is two weeks away, and we know you want to impress your special someone with a great night out.
That's why we suggest you bring her to the bowling alley! It's a great place to spend time together, whether you're on your first date or your 50th!
Not convinced? Check out all the great reasons why bowling is a great activity for Valentine's Day.
Bowling is Affordable & Unique
Don't break the bank this Valentine's Day with an expensive dinner and outing. Bring your date to Rab's Country Lanes for the best activity in Staten Island – bowling! This unique activity is affordable and fun. You'll have so much fun bowling, you'll be counting the dates until you can come back. For extra uniqueness, try cosmic bowling!
Bowling Eliminates Awkward Silence
Dates are meant to be fun and enjoyable – not awkward and silent. That's another reason why bowling is a great date night activity! There will never be awkward silence because you'll be busy bowling. And bowling is a great conversation starter, whether you're a pro or laughably bad at it. You two can talk about ways to get a strike, what size bowling ball to use, and so much more.
Bowling Shows You Personality Traits
Do you want to really get to know your date? Bring them to the bowling alley! You may see her super competitive side or laid-back side (all depending on if she gets a strike or a gutter ball.) If you want to impress her with your bowling skills, check out these tips on how to bowl.
Are you ready to bring your date to the bowling alley? If you have any questions, please feel free to contact us today!