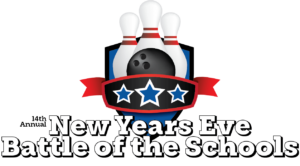 Ten teams representing eight (8) different schools participated in the High School Division of the 14th Annual New Years Eve Battle of the Schools this morning at Rab's Country Lanes.
Tottenville II, "Do it for Kathy," comprised of Joe Narvessen, John Lombardo, Jacqualyn Ciprello, Chris Riordan, and Jason Wichnovitz came out on top rolling a 15 game baker series of 3418.  As a team they averaged 227 with the high game of 256.
New Dorp II was right behind with a total of 3366, highlighted by their high team game of 275.
In the High School Division, teams bowled a total of 15 games head to head, winners of each match received 30 bonus points.  Total wood with bonus points determined the winners.
Bowlers in the Grades 3-4 and 5-8 Divisions bowled 4 games.
Peter Flynn rolled a 533 series en-route to a first place finish in the Grades 3-4 Division while Frank Koppie rolled a 661 series to capture the Grades 5-8 Division title.
Click Here for the Full Results