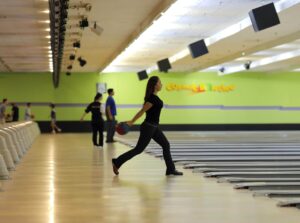 Here at Rab's Country Lanes, we see a lot of bowlers of all experience and skill levels, from occasional social bowlers to members of the many bowling leagues that meet at our Staten Island bowling alley. Bowling uses many parts of the body, so before you start, it's important to get ready with some warmups to prevent bowling injuries. 
These bowling warm-ups will help you get the blood flowing and loosen up your muscles, not only lessening your chance of injury but also preparing you for your best possible game. 
5 Warm-ups for Bowlers
Limber up

– Take a short jog around the parking lot before you enter the bowling alley, jog in place at your lane, or even do some jumping jacks! (Make sure to be safe and considerate of other bowlers.) Any whole-body activity that gets your heart pumping (and more blood flowing to your muscles) will do the trick. 

Stretch your shoulders

–  Try the

overhead shoulder stretch and posterior shoulder stretch

to gently loosen up your shoulders. 

Get a leg up

– While you may throw the ball with your hand and arm, your whole body is actually involved in bowling. Warm up your legs to ready yourself for the approach by doing a few seconds of front and side lunges on each side of your body, as well as some quadricep stretches. 

It's all in the wrist

– There are two types of

wrist warm-ups you should do before bowling

: 

Wrist Flexion

– Hold your arm straight in front of you, palm down. Drop your hand at the wrist, and grasp your fingers with the opposite hand,

gently

pulling down to increase the stretch ever so slightly. You DO NOT want to use a lot of force with these exercises – go slowly and gently to avoid injury. Repeat with your other hand. 

Wrist Extension

– Hold your arm in front of you, palm down. This time, raise your palm (bending at the wrist) and use the opposite hand to

gently

pull your fingers back towards your body. Repeat with your other hand. 
Whether you're bowling with friends or competitively, these bowling warm-up exercises should help you prevent injury and have more fun! Join us at Rab's Country Lanes any time for the best bowling in Staten Island.