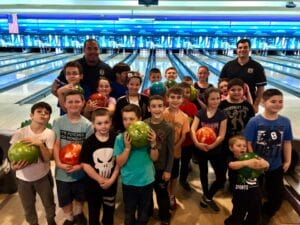 By Christine DeRosa | Cderosa@siadvance.com
For the Staten Island Advance
STATEN ISLAND, N.Y. – NYPD Neighborhood Coordination Officers Anthony Gomez and Joseph Ranola were so proud of the work youngsters from the Police Athletic League (PAL) program had done this year they wanted to organize a special outing for them.
So the officers treated the students, who attend PS 41 in New Dorp, to a bowling event at Rab's Country Lanes in Dongan Hills on Monday evening.
Gomez and his partner, Ranola, are neighborhood coordination officers assigned to Sector B in the 122nd Precinct and patrol from New Dorp Lane to Old Town Road. Both officers have worked with all of the schools in their district, developing a great relationship with both children and staff.
The idea for a bowling event with both officers and student members of the PAL was discussed during a meeting with Tannea Manning, the PAL director at PS 41. During the meeting, the group spoke about wanting to reward some of the students for excelling in both school and their assignments.
When talking about his involvement with the students, Gomez said, "We feel it's important to show the kids the value of their education, along with getting along with one another and enjoying themselves."
Gomez automatically knew where to host the event.
"Rab's bowling alley is a business we have developed a phenomenal relationship with through our community involvement," said Gomez. "We decided to all partner up and host a bowling night for the kids in the after school PAL program at PS 41."
Both officers have worked with the students for a year. They participate in a classroom program entitled Too Good for Drugs, which has both officers spending class time educating students about controlled substances. Gomez and Ranola also spend time with the students after school and play sports with them.
The officers developed their relationship with the business by participating in its Monday "Golden Oldies" event. The pair attend this event two or three times a month and use the opportunity to update senior citizens on crimes such as phone scams that they may fall victim to. They also hold community meetings, known as Build The Block meetings, quarterly and the last one was held at the alley.
This was the first event the officers had organized for the students.
Gomez said that they are hoping to plan a flag football game for next month, hopefully at Miller Field, for the students and other officers in the precinct.