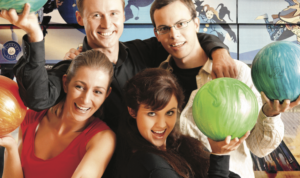 At Rab's Country Lanes, we love bowling! From our perspective, bowling pushes us as individuals and as teammates to do better and reach further. And if you're like us, you probably can't get enough time at the lanes either!
Luckily, our fall bowling leagues are open! Bring your whole team down and get ready or find an open spot on an existing team. Either way, you'll have a chance to step up your game starting this September in a fun league that matches your skill levels.
A League For Everyone!
Our fall/winter leagues run from September through May and offer a bunch of different options to fit anyone's preference or ability level.  Check out the different types of leagues we're offering this year and give us a call to find out more!
Rab's Country Lanes offers:
Mixed Leagues
A Senior's League
Ladies Daytime Leagues
Ladies Evening Leagues
Men's Leagues
Family Leagues
Fun Leagues
Get Warmed Up Before Summer's Over
Maybe it's been a while or maybe you've always liked bowling but just haven't spent that much time doing it. Our leagues don't start for another month or so and we always have an open lane for you.
We're more than just a bowling alley, though! We also have a host of other fun activities such as an awesome snack bar, a wicked laser maze, and our high roller's lounge! And don't forget to visit our pro shop for all your gear before league play starts up!
At Rab's, we know how to have fun. Come join a league this fall and see what it's all about!