By Matthew Angell
Staten Island Advance | silive.com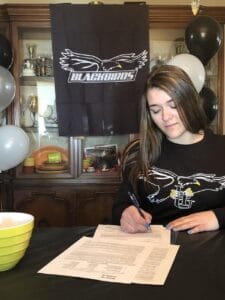 Many people in the Ciprello family would say that bowling was the best thing that ever happened to Tottenville senior Jacqualyn Ciprello, and they probably wouldn't be wrong.
The 18-year-old Oakwood resident went from being a shy student with average grades, to an outgoing honor student after joining the Pirates girls' bowling team sophomore year.
"When she joined she was very shy and kept to herself," said her father Joseph Ciprello. "When she joined the bowling team they took her in and matured her from a child to a woman in my opinion. She became very outgoing, she used to sit in a corner and not say much to now where if she sees someone struggle she is the first one to help."
Ciprello played at an elite-level during her three-year career for Tottenville and is set to attend and play Division I bowling for LIU Brooklyn this fall on a scholarship.
"It's indescribable," said Jacqualyn. "It's the most surreal feeling in the world to be bowling with people who are as passionate about bowling as I am."
She also received offers from Molloy College, St. Francis Brooklyn and Felician University, but her decision to attend LIU Brooklyn came pretty easy.
"The difference for LIU was as soon was I walked on campus I just felt like I belonged there," said Jacqualyn.
"When she went on her first school visit they took a liking to her and felt it was family oriented," added Joseph. "That drew her there and she saw the graduation rate was high and the job placement was great."
Jacqualyn plans on enrolling in the nursing program to be a neonatal nurse and take care of newborn babies.
"I've been wanting to do nursing ever since I was little," said Jacqualyn. "When I would be in hospitals I would see babies and I knew that I wanted to spend the rest of my life doing that."
TAKING UP BOWLING
Jacqualyn's decision to take up bowling started after the Ciprello family went to bowl for fun.
"I went out with my family to bowl for fun and my mom and dad said I had potential and we just went from there and it escalated," said Jacqualyn.
After joining the Pirates, she quickly fell in love with it.
"It was just over the time I bowled I was happy and I loved doing it," said Jacqualyn. "I met some other bowlers and it changed my life. The people that I met at bowling were outgoing and they brought a different person out of me when I joined."
Her talent was showcased often throughout her high school career as she became a two-time Advance All Star, bowled two 700 series, a high game of 289, earned an MVP award and won two PSAL championships with her team.
Jacqualyn credits much of her success to her parents for their endless support and professional bowler and Islander Vinny D'Ambrosio who she practices with at Showplace. Ray Laursen, the owner of the pro shop at Rab's Country Lanes, also gives her lessons.
"I wouldn't be where I am without them [parents] today," said Jacquelyn. "My dad was always there for me he paid for leagues and all of my equipment and my mom was there physically and emotionally every day.
"After matches at Tottenville, we [Jacqualyn and D'Ambrosio] would stay later and practice until I couldn't feel my fingers."
After joining the bowling team, Jacqualyn's grades skyrocketed.
"She saw that the kids on the team when she first joined had better grades," said Joseph. "She was an average student maybe around 75. She saw that everyone had better grades and were getting scholarships and that made her hit the books harder and now she's around a 92 average."
http://www.silive.com/sports/index.ssf/2018/04/late_bloomer_to_bowling_commit.html#incart_river_index