Brooklyn Reporter
By Ariama Long / editorial@brooklynreporter.com / Thursday, July 12, 2018 / 4:43 PM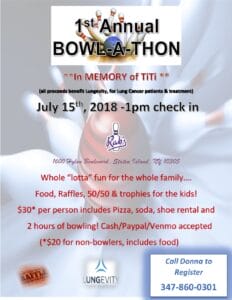 Bay Ridge altruist and manager of the Hearts Connected Group, Donna Russo-Lubrano, is hosting an exciting bowling fundraiser this weekend in memory of her oldest sister.
The fundraiser will take place on July 15, 2018 at Rab's Country Lanes (1600 Hylan Blvd. on Staten Island) with check-in at 1 p.m.
The event asks for a $30 donation, which includes pizza, soda, shoe rental and two hours of bowling, or a $20 donation for non-bowlers which includes food and drinks.
Teresa A. "TiTi" Favret, who passed two years ago from lung cancer, was beloved by her family and community. Even though she resided in Mount Kisco, New York, she was a longtime Bay Ridge resident before that and still drove the few hours to Dyker Heights to get her hair and nails done with her sister. Russo-Lubrano's daughter, Angelia, has also taken up bowling in two different leagues as a dedication to her aunt's favorite pastime.
"She was like a second mom to me and then to my daughter," said Russo-Lubrano, "When we were cleaning out her belongings, my daughter found her bowling ball and trophies. On the first anniversary of her death we invited some friends and went bowling together."
Russo-Lubrano has participated in the signature walking fundraiser for the American Cancer Society, "Relay For Life," for 15 years. Though, she said, the last two years were especially hard for her without her sister (she could not participate), which is why the proceeds for the bowling event will go towards lung cancer patients, their treatment and the LUNGevity Foundation.
Russo-Lubrano reached out to the foundation for support because they are committed to making an impact on people with lung cancer and fighting the disease like her sister had.
LUNGevity will be participating in the event, as well as a bevy of local businesses from both Bay Ridge and Staten Island who have signed on as sponsors. These businesses will be donating everything from free handouts and desserts to prizes and raffle baskets. Business donations so far include Italianissimo Ristorante, Nino's Restaurant, Harde's Liquor Store, the Maxx Challenge, Malsons Jewelers and Staten Island FunPark.