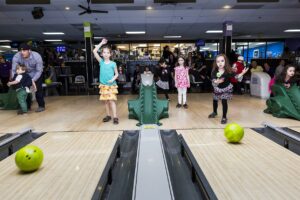 The weather in Staten Island is constantly fluctuating. One day it's burning hot and the next day it's pouring rain. Your kids may be getting a bit stir crazy … and school is still one month away! Fortunately, we have the answer to your family entertainment woes. You and your kids can enjoy one of the best activities in Staten Island: bowling! And, to make it better, we are now running a Summer Kids Special that is affordable and fun.
The Summer Kids Special
For only $10 per child, your kid gets two games of bowling, shoe rental, a hot dog or slice of pizza, and a small Pepsi. (You can't go to the movies for that price anymore!) This special is available for kids 18-years-old and under. Also, this special runs until September 7. Your kiddo can enjoy bowling from 9 am to 6 pm, seven days a week! (That's right, we don't think that anyone should have to take a break from bowling if they don't want to.)
For your toddlers and teenagers, this is a great family outing. Speaking of family outings, we don't want parents to miss out on the fun either. That's why we've created a special just for you, too! For only $15 per adult, you can enjoy two games of bowling and shoe rental. Please note that the kids and adults must share the same lane, and this deal is only available with the purchase of the Summer Kids Special.
This great deal is available for up to six bowlers per lane. What are you waiting for? Invite your favorite five people and head to Rab's Country Lanes for hours of endless fun! Contact us with questions.