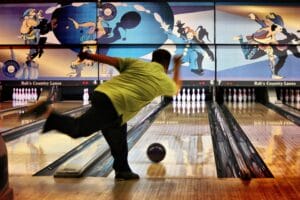 Bowling is a much-loved sport in America. From having fun with friends to bowling in a professional tournament, this activity is enjoyable for all ages! But it's important to know how to avoid certain injuries to ensure maximum fun! Discover three of the most common bowling injuries and how to avoid them:
Bowler's Thumb
Bowler's thumb usually occurs in bowlers who put a lot of spin on their bowling ball. If your thumb's hole is too tight, it can also pinch the ulnar nerve inside of your thumb. If your bowler's thumb injury is not serious, a little rest and correcting the ball size will fix the issue. (Or, if you purchase your own bowling ball, you won't have to search for the perfect ball each time you go to Rab's Country Lanes!)
Carpal Tunnel Syndrome
You may be surprised to see carpal tunnel syndrome on the list of possible bowling injuries. Most people associate this painful occurrence with computer users and mechanics. However, bowlers can suffer from carpal tunnel syndrome, as well. If you feel numbness or tingling in your forearm and hand, it's likely that a nerve in your wrist is compressed. Icing and resting the afflicted hand and arm is vital for relief.
Shoulder Injuries
It's not uncommon to leave the bowling alley with a sore shoulder. Your shoulder plays a vital part in your bowling game. Your arm and shoulder are moving in a repetitious motion, and if your form is incorrect, shoulder injuries are likely to occur. To combat this injury, make sure to study proper bowling techniques before going to Rab's Country Lanes. Stretching your shoulders, arms, legs, and hands is also important.
Are you ready to have endless hours of fun with friends? Check out our hours, then head to Rab's Country Lanes!