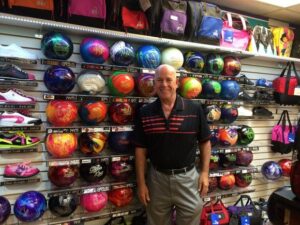 If you bowl regularly, you've probably noticed that some of your fellow bowlers bring their own bowling balls rather than using the balls provided for general use. There are plenty of reasons to go either way, so if you're wondering if you should buy your own ball, check out these pros and cons of buying a bowling ball. And of course, you can always stop by the Country Pro Shop at Rab's Country Lanes to discuss your questions with our friendly and experienced staff. 
Reasons to Buy Your Own Bowling Ball 
While there are probably more reasons to buy your own bowling ball, these are some of the best. 
Owning your own bowling ball can improve your game. 
So much of bowling is about consistency. By using a ball with a specific weight and composition, drilled just for you, you're eliminating a variable from your game, allowing you to concentrate more on your technique than on adjusting to whatever ball you've picked up that day. As bowler and writer Jef Goodger puts it, "Using any old ball off the rack requires you to adapt your hand and style to fit the ball. When you have your own ball, the ball adapts to you." 
Your personal equipment is just for you. 
Don't waste time scouring the racks looking for the perfect ball; you've already got it with you! Having your own ball also helps to ensure that other bowlers won't pick up your ball by mistake, and can even minimize your exposure to germs. The only things touching your ball are you, the lane, and the ball return! 
You can customize your bowling ball. 
If you buy your own bowling ball, you can have the finger holes drilled exactly right for your grip. You can choose a ball with certain materials, colors, and weights all according to your preferences and style. Once you experience bowling with your personalized ball, you'll never want to go back to the gamble of using an alley ball!
Reasons to Use the Bowling Alley Balls 
If you're not ready to make the commitment to buying your own bowling ball, that's OK too! It's totally reasonable that you might want to keep using the bowling alley balls for a while. 
Bowling alley balls are simply convenient. 
If you're a casual, occasional bowler who's in it more for the social aspect than the competitive nature of the game, don't feel pressured to buy a ball. There's no need to bring your own equipment if you'd rather just be able to walk in and play. That way you don't have to worry about cleaning and maintaining a ball, transporting it, and investing in the supplies and equipment to do so.
You're still figuring out what you like in a ball. 
Even if you really enjoy bowling and want to improve, if you're new to the game you might want to figure out what you are looking for in a ball before making the purchase. While bowling balls are not particularly expensive (especially if you're a beginner), you might be better off to try out several types of balls while you bowl before committing to one particular model. 
Save money by using the alley's bowling balls. 
Bowling is a great option when you're looking for affordable things to do in Staten Island, but buying your own equipment can definitely add up. If you're trying to save money, don't worry about it; you can always use the bowling balls provided by the bowling alley. 
Whether you buy a bowling ball or not, don't miss out on the fun of this classic sport! Check out our open bowling schedule for times and rates.