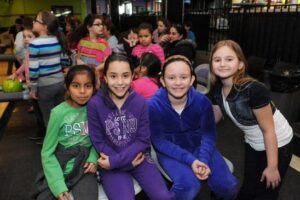 Bowling is a fun activity for the whole family, including little ones! If you're interested in teaching your child to bowl, here are our best tips to teach children to bowl to get you started.
Bowl early, bowl often.

Kids can learn to bowl as young as 3 years old, but all kids are different and you should take your child's motor skills and development into consideration. Your child will need to be able to lift a 6 lb bowling ball. Our bowling shoe rentals range from a toddler size 5 all the way to a men's 20!

Gear up.

Here at Rab's, we love sharing the fun of bowling with local families, and we make it easy and fun to bowl with your kids. Bumpers are available on all 48 of our bowling lanes for kids 12 and under. They go up for the kids and down for the adults, so the whole family can enjoy an age-appropriate challenge.

We also offer dragon bowling ramps, which are great for kids up to 5 years old. These sturdy plastic ramps allow little bowlers to get the thrill of knocking down pins without lifting a heavy ball.

Start with the basics.

First up, safety! Make sure they know NOT to step onto the lane, which is slippery and can result in a tumble. For little kids, start them off holding the ball with two hands. Once they have two-handed bowling down, teach them

how to hold the ball

one-handed. It can be helpful to hold their hands on the ball and guide them in releasing, until they have learned the proper motion well enough to do it on their own.
Want more tips for teaching your kids to bowl? Check out this great Fatherly article featuring expertise from a Hall of Fame bowler!
Quit putting off taking your child bowling and get them to the lanes! Check out our upcoming Staten Island events and make plans to bring your kids out for a little Staten Island bowling.