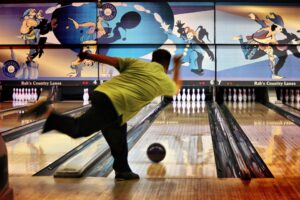 If you're trying to improve your bowling game, there are many possible places you may want to focus your attention. However, one of the questions we hear most often is how to throw faster shots in bowling. The more speed on the ball, the more power will be transferred into the pins upon collision, which results in more pin action. (AKA pins flying and hopefully taking others down with them.) Read on to learn how to achieve a faster bowling throw, then hit the lanes to practice here at Rab's Country Lanes, the best bowling alley in Staten Island. 
How to Throw Faster Bowling Shots
Speed up your approach
Moving more quickly on your approach is the simplest way to increase ball speed. While most people try to speed up their shots by throwing harder with their arms, you can actually increase your speed much more effectively by using your legs to gain momentum for your approach.To do this, you may need to move your starting point back in order to give you enough room to get up to speed. Concentrate on your form though, because this technique can cause you to lose accuracy. 
Loosen up
As we've mentioned before, it's important to warm up before bowling. Keeping your arms and legs loose and limber will ensure that your swing is transferring the maximum amount of power to the ball as you release it. 
Hold the ball higher up
Less experienced bowlers will oftentimes attempt to increase ball speed by bringing their arm further up on the backswing. However, this rarely works to their advantage, as the higher backswing reduces accuracy. There's no point in throwing a fast ball if it's not going to the right place, after all. Instead, give yourself a higher starting position by holding the ball higher than you normally would, thereby increasing the overall length of the arc during your backswing. 
Strength train when away from the bowling alley 
Bowling isn't all about your arms; keep that in mind and improve your game by strength training your whole body, including your legs, back, and abdominal muscles. The stronger you get, the more power you'll be able to transfer to the ball. 
Ready to take your bowling game to the next level? Practice makes perfect, so make Rab's Country Lanes part of your weekly routine! You can even save money by signing up for our Rab's Rewards program. 
While practicing solo can be great for your game, don't underestimate the value of some friendly competition! We have a number of bowling leagues available for the 2019-2020 season, including ladies only leagues, seniors leagues, and many more. There's something for everyone, so join in on the fun.