Summer bowling leagues start play in June, just after Memorial Day, so it's time to get signed up!
At Rab's Country Lanes we have summer bowling leagues for everyone, regardless of your skill level, style of play, availability, or age. If you've already got a full team that you'd like to play with, great! Your whole team can register at one time. Is it just you? No problem. You can register by yourself and we'll slot you in with other bowlers whose availability and interest match yours.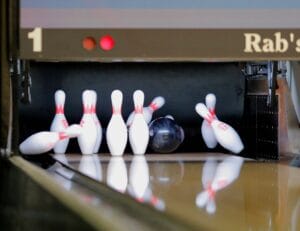 League bowling is a great way to spend time with your old friends, of course, but it's an even better way to make new friends. In a world where "how to make friends as an adult" is a common topic of thinkpieces and self-help guides, joining a league is a guaranteed way to meet people who have something in common with you. Rab's offers mixed leagues as well as single-sex leagues. Kids can join youth leagues, seniors can join senior leagues–we even offer leagues designed for families of all ages to bowl together. Whether you're looking for early morning or late night play, Rab's has scheduled league opportunities for you.
League bowling isn't just for advanced players. It's a great way to learn the game, because you'll be practicing regularly, and you'll be playing with people who already know how it's done. Teammates can be your best source of knowledge and inspiration for improving your bowling. Brush up on your bowling etiquette and get down to Rab's Country Lanes!