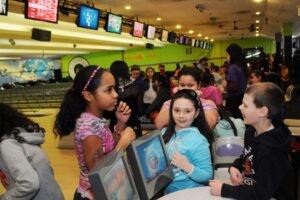 How does summer seem to simultaneously go too slow and too fast? As kids, most of us experienced lazy summer afternoons of boredom, as well as the panic of realizing summer is almost over! How did that happen? Well, if you're looking for summer activities in Staten Island to help your kids make the most of summer, you're in luck! Just come to Rab's Country Lanes for our Summer Kids Special. 
Affordable, Indoor Summer Fun for Kids
Join us from 9 am to 6 pm, 7 days a week, for our summer kids bowling special. This deal is perfect for kids, tweens, and teens – anyone ages 18 and younger. $10 per person includes: 
2 games of bowling

Shoe rental

Choice of 1 slice of pizza or 1 hot dog

1 small soda
Adults are welcome to bowl on the same lane as their kids for $15 per person, including 2 games of bowling and shoe rental. 
Why the Bowling Alley is Perfect for Summer Fun
Of course bowling is just plain fun, but there are more reasons to bring your kids to the bowling alley this summer. 
No bugs

– No need to spray the kids down with bug repellant or treat mosquito, ant, and wasp stings. 

No sun

– Getting kids to apply sunscreen is about as fun as getting them to apply bug spray! Why not choose an

indoor activity

? 

No heat

– When it's miserably hot outside, your kids can get a little stir-crazy in the house, which can lead to bickering, raiding the snacks, and binging TV or video games. Instead, go bowling! They can be active and social at the bowling alley, in the comfort of air conditioning. 

No hermits

– Summer can be a pretty

isolating time for kids

. Help them keep their school friendships alive by planning some

summer playdates at the bowling alley

. 
Want to stay up-to-date on the latest specials and events at Rab's? Subscribe to our email newsletter and never miss an update.