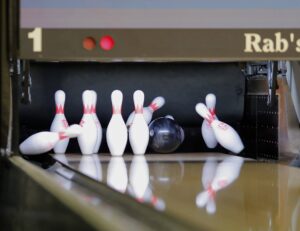 Different bowling balls have different reaction levels, which means some balls will respond better to certain lane conditions than others. If you're in the midst of a game and feel that you just can't get the ball to react properly despite making corrections in your technique or approach, it's not you – it's the ball. Learn how to know when to swap your bowling ball during a game with these tips. 
Should You Change Balls During a Game? A Checklist
You should not change bowling balls during a game without knowing what you hope to get out of it. According to The International Art of Bowling (a fantastic resource for any bowler looking to improve their game), there are three things you need to consider: 
How is the ball reacting on the lane?

This will depend partly on how recently the lane has been oiled. If it's freshly oiled, you should have some skid and back end reaction by default. If the oil has been dispersed along the lane and your ball is hooking around the middle, you'll want to move in. However, if you try this adjustment and the ball is sliding too long, or you move back and your ball is hooking too soon, you will need to change balls.

What kind of hook are you getting?

In addition to the adjustments above, try to notice whether you're hooking too much or not enough. Are you missing inside or outside? This can help you determine what ball you should swap for. 

How is the ball hitting the pins? Watch your ball entering the pocket and leaving the pin deck. Are you inexplicably leaving a lot of corner pins even with a good hit? Your ball may not be getting the necessary carry due to skidding for too long or hooking too early. Swapping your bowling ball may be the remedy you need to get your game back on track. 
Of course, "practice makes perfect" is a saying for a reason, so don't underestimate the importance of bowling regularly and getting familiar with how each ball performs under certain conditions. Join us at Rab's Country Lanes for open bowling in Staten Island, or sign up for one of our bowling leagues to improve your skills with a little competitive pressure!