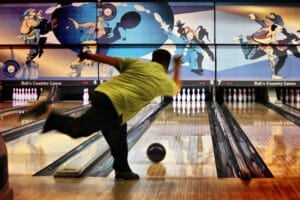 How's your bowling score? If you'd like to add more strikes to your game–and who wouldn't?–check out these tips from Rab's Country Lanes.
Pick the Right Ball.

A lighter ball will knock pins into each other rather than up into the air. Plus, you'll have more control over a ball you can hoist easily.

Adjust For the Lane.

All bowling lanes are built the same, but each will still be slightly different. Make sure that you pay attention to things like oil patterns, which can change even from turn to turn. Take a second between rolls to consider the lane. This will also give you time to center yourself before you bowl.

Do it Right.

Don't make any of these

common bowling mistakes

. If you're not sure, ask a friend or teammate with a strong game to keep an eye on you next time you go up for your turn. An outside view can help pick up on mistakes you don't even realize you're making.

Aim for the Pocket.

If you're right-handed, aim between the one and three pins; for lefties, shoot between the one and two pins. This angle sends the ball through all the pins, making sure that

Practice!

The more you practice correctly, the better you'll get. Join one of the

leagues

at Rab's or just come out regularly for open bowling. Make sure you practice doing things right, though. Remember: perfect practice makes perfect
Don't forget to sign up for Rab's Rewards to make the most of all the time you spend working on your strikes!