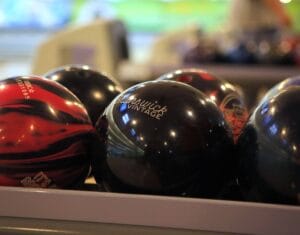 So you've caught the bug and decided to take your bowling to the next level by buying your own ball? At Rab's Country Lanes, we couldn't be any happier to hear it! Getting a ball that's customized to your needs is the only way to start rolling like the pros. But what are the considerations when it comes to choosing the right ball for you?
Check out these tips from our House Pro, Certified Bowling Ball Technician and Instructor, Ray Laursen, for picking out your first bowling ball:
Picking the Right Weight
If you're in the market for your own ball, chances are good that you have a general idea of what weight you're comfortable with. However, you have to consider the fact that when you use house bowling balls at Rab's, they're not custom made to fit your hand. Our advice is to come in, roll a few games with a few different balls, and see what weight feels right. When you go to buy your ball, increase the weight by about a pound. The custom fitting of your bowling ball will give you much more control and comfort than you're used to. You'll find that adding a little extra weight will feel just right when you use a ball made for your hand.
Picking the Right Material
An entry-level ball will usually be made of polyester and will cost somewhere in the $99 range. It'll feel great in your hand but don't expect a super responsive hook when you try to spin it. The next level up is a urethane ball, which will be in the $149 range. Urethane balls are softer than the plastic polyester ones, which gives you more control to throw a hook.
Holes and Grips
After you've picked out the ball for you, it's important to get it frilled specifically for your hand. Holes that are custom drilled will fit like a glove and give you vastly more control over your game. From there, you can choose to add fingertip grips or use the ball as is. The choice is yours, but fingertip grips do add the extra spin you want to get a really great hook.
For more information about how to find the best bowling ball for your level and your needs, stop by and talk to one of our staff. We are more than happy to help you find the perfect ball and help you bump your score to new heights!