Staten Island, NY is home to many different things. It is home to a 9/11 memorial, the Staten Island Ferry, and some delicious food. History is a huge part of this city. But has Staten Island ever seen the perfect strike? Rab's Country Lanes is home to some of the best bowling lanes in New York. These beautiful lanes deserve to feel the perfect strike. We offer the facility for any bowler to come in and practice for hours and hours in all kinds of atmospheres.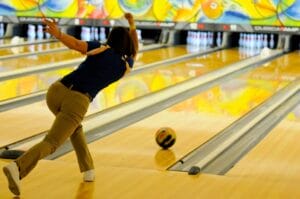 Open bowling is a good way for you to come in for however long you would like and play against your friends. It may be fun to create incentives. If bowling the perfect strike is what you're looking for, it could be fun to challenge your friends to beat you to it.
Rab's Country Lanes also offers you a bit more competition if that is what you're looking for. You can compete in one of our tournaments we offer throughout the year, or you could even join a bowling league. Competing against the best competition in Staten Island can improve your skills beyond what you imagined. Observing some bowlers who have high skill levels may show you exactly what your motion is missing when seeking the perfect strike.
Bowling in a party scene may be exactly what you haven't tried yet. It might be time to stop thinking about each bowl and just let your natural skills take over. Our cosmic bowling atmosphere gives you just that. As the white lights go out and the black lights turn on, let the music guide you to the perfect strike of Staten Island's own, Rab's Country Lanes.
For our hours and rates, please visit our website and explore what we have to offer.