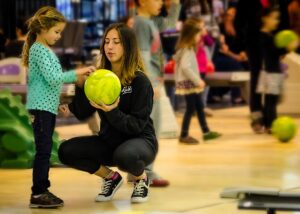 The summer is drawing to a close, National Family Fun Month is over, and the kids are back in school, but that doesn't mean the family fun has to end! At Rab's, we keep the fun going year round.
Bowling Fun for the Whole Family
Bowling is a great activity for adults and kids alike, and at Rab's, we have something for everyone. We rent bowling shoes ranging in size from a toddler 5 to an adult men's 20 and offer a variety of bowling ball sizes, from 6 lbs to 15 lbs. We also have bumpers for kids who are learning how to bowl and dragon ramps for the little ones.
Join us for Open Bowling 7 days a week! We also offer Cosmic Bowling on Friday and Saturday nights, with an LED light show and your favorite music videos accompanied by black lights and neon.  
A Little Friendly Competition
Want to take your game up a notch? We host both adult and youth bowling leagues where you can test your skills and meet other bowling enthusiasts. But bowling is just the beginning. You can also head over to the Laser Maze Challenge to test your skills against your friends and family! Channel your inner spy or action hero by navigating your way through the laser beams in the shortest time.
Don't let the daily grind of work and school get you down. Make time for family fun and keep the good times going at Rab's! Follow us on Facebook to stay up to date on announcements, events, and more.