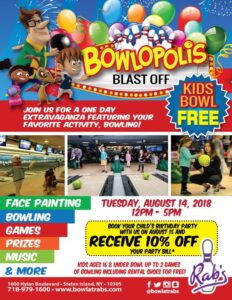 School may be approaching quickly, but there is still summer fun to be had! Parents, the team at Rab's Country Lanes is excited to announce our Annual Bowlopolis Blastoff. Your kids will love the endless hours of fun at the bowling alley, and you will love how affordable the event it!
Rab's Annual Bowlopolis Blastoff Details
On Tuesday, August 14th, we are hosting our Annual Bowlopolis Blastoff! This event is catered just for you, our bowling lovers! From noon to 5 pm, kids ages 16 and under can bowl up to two games for FREE. This awesome special also includes free shoe rental. After your kiddos are done bowling, bring them to our face painting station, game station, and other fun surprises we are planning.
We won't be surprised if they have so much fun at Bowlopolis that they ask to celebrate their upcoming birthday at Rab's Country Lanes. That's why you'll receive 10% off your birthday party bill if you book your child's birthday party with us on August 14th! Customize your party at Staten Island's best spot for children's birthday parties (voted by silive.com).
Our Annual Bowlopolis Blastoff isn't the only fun we're having at Rab's Country Lanes this summer. We are also hosting a Summer Kids Special that takes place through September 7th! So, load up your kids and their friends and head to the best bowling alley in Staten Island! Don't hesitate to contact us with your questions. We hope to see you for our bowling extravaganza and every day before and after the event!