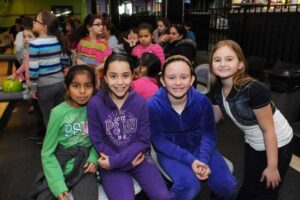 With Staten Island schools back in session, it's important to make time for some family bonding! So fight those back-to-school blues with a fun after-school trip to Rab's Country Lanes!
Here are just 5 reasons to go bowling after school with your kids:
All work and no play is not good for kids!

By making time for fun, you'll help your kids de-stress after school. Spacing out school work and homework with some recreation time can actually help children focus.

Bowling helps kids unplug.

It's important to give kids active, social,

IRL (ie "in real life")

things to do after school instead of just binging Netflix, playing video games, or being on social media 24/7.

It's a great activity to learn!

Bowling is a

good family activity

that you can all enjoy together, rain or shine. Bowling could even turn into a lifelong hobby or sport that will help them stay active and social their whole lives. What's more,

bowling teaches

patience and hard work!

Sportsmanship is important.

Not only can bowling help

improve family bonding

, but it's also a wonderful way to teach teamwork and sportsmanship at any age.

Bowling is good for your health.

Bowling helps improve flexibility, arm and core strength, and hand-eye coordination. Plus it can be enjoyed by any age group or fitness level.
So get your kids involved in bowling for a little after-school fun in Staten Island. And if your kids are really into it, sign them up for one of our youth bowling leagues. Fall registration is happening now!