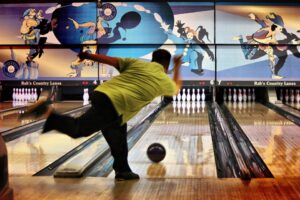 Are you trying to improve your bowling game? As with any sport or skill, the more you practice, the faster you'll improve. However, if you (like most people) have a job, household, family, and other responsibilities, you probably can't make it to the bowling alley every day, no matter how much you'd like to. Not to worry! You can improve your bowling even when you're away from the lane with these tips. 
How to practice bowling at home (or anywhere)
Practice your swing in front of a mirror.

This one is great because it's something you wouldn't really want to do at the bowling alley anyway! Instead of awkwardly swinging your arm around in public, stand in front of a full-length mirror and practice your arm movement. By refining your swing in private, you'll have the muscle memory you need to pull it off next time you're at Rab's. 

Stay limber.

Bowling uses many different muscles, so it's important to keep yourself in good shape for optimal performance. Stretch every day and keep your body fit with weight training and cardio. 

Devote some time to bowling every day – even if you can't play.

When you can't make it to the lanes, you can still improve your game by keeping bowling at the forefront of your mind. Practice your

visualization techniques

, talk about bowling with a friend, read about bowling, or watch YouTube videos about bowling! Thanks to the internet, there are tons of resources to help you

improve your bowling skills

. 
Whether you just bowl for fun or want to compete in a bowling league, Rab's Country Lanes is the place to bowl in Staten Island! We hope you'll join us soon to hone your skills and have a blast.