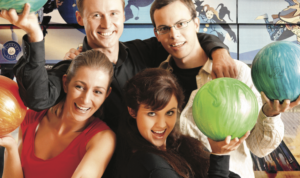 Summer is here, and we couldn't be more excited to welcome people of all ages to the bowling alley! This fun activity is one of the best ways to burn calories, make memories with friends, and sharpen your hand-eye coordination skills. Discover why bowling is a great summer activity for the whole family:
Gives You a Break from the Heat
Summers in New York are HOT. We understand that, and that's why we are open seven days a week to give you a break from the heat. Early mornings can be unbearable, too. So, we created a Sunday Early Bird special that we know you'll love. Here are the details: every Sunday through September 2nd from 9 am to 12 pm, UNLIMITED bowling, $30 per lane, and $6 shoe rental.
Great for All Ages
Mom and Dad, are you looking for a fun family activity that both your teenager and elementary-aged child will love? Bowling is the answer! This activity caters to people of all ages because it's so much fun. We want your kids to love bowling as much as we do. That's why we have a great special this summer just for kids!
Affordable & Fun
We want you to enjoy bowling without breaking the bank, so that's why we are offering specials all summer long. In addition to the Sunday Early Bird special and Rab's Summer Kids Special, we have TWO MORE specials that we are offering: Manic Monday and Fun Pack! Enjoy this fun activity with friends and family this summer and make lifelong memories.
Rab's Country Lanes is the place to be this summer. What are you waiting for? Check out our hours, then bring the whole family to the bowling alley!