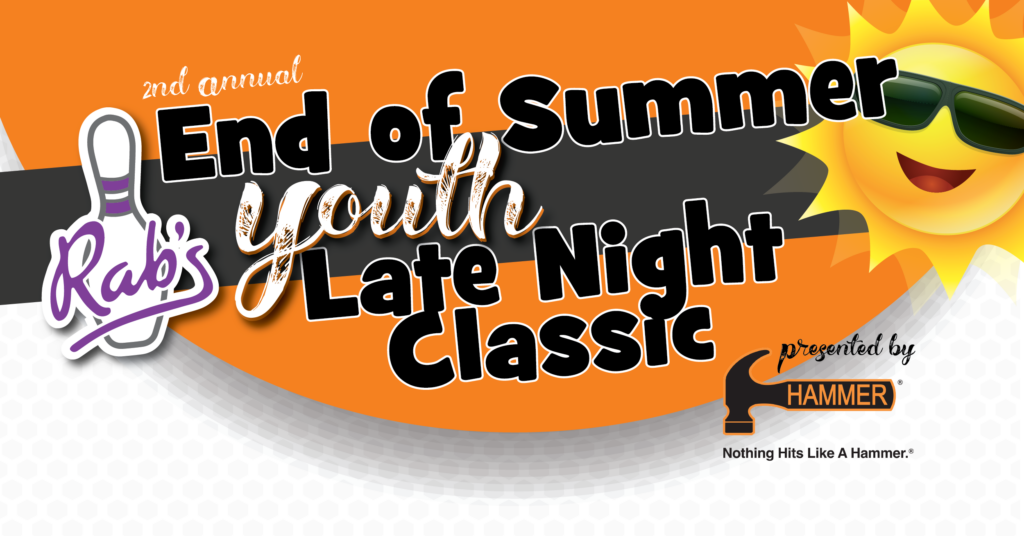 Participate in the event of the Summer!  Rab's End of Summer Youth Late Night Classic Returns!
RE-SCHEDULED… New Date!
Thursday November 25, 2021 at 12:30 AM
(Wednesday Late Night into Thursday Morning)
Event Check-in: 12:00 AM | Doors lock at Event Start
Open to all youth bowlers, competing in 2 divisions, U15 & U18!
Athletes will compete for The Grand Prize and other prizes in the form of Bowling Equipment!  Balls, Bags, Shoes, Jerseys, and More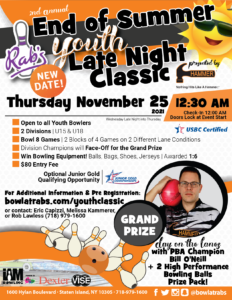 Division Champions will Face-Off for the Grand Prize, a day on the lanes with PBA Champion Bill O'Neill, plus a 2 High Performance Bowling Balls Prize Pack
All bowlers will bowl 8 games on 2 different lane conditions.
Optional Junior Gold Qualifying Opportunity for all bowlers in all Junior Gold Age Divisions will be available! (Register onsite for Junior Gold Qualifying)
See Flyer & Rules for additional information or contact: Eric Capizzi, Melissa Kammerer, or Rob Lawless, (718) 979-1600, info@bowlatrabs.com
Congratulations 2019 Champion – Devin Flowers
---
Rab's End of Summer Youth Late Night Classic Pre-Registration
Registration for Rab's End of Summer Youth Late Night Classic
---
Rab's End of Summer Youth Late Night Classic Tournament Results