Back for the 2019-20 Season

Open to all Youth Bowlers!
Build a team of 4 bowlers in your age group to compete.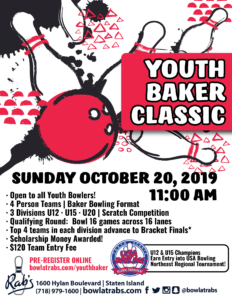 4 Person Teams | Baker Bowling Format
Scratch Competition
Qualifying Round: Bowl 16 games across 16 lanes
Top 4 teams in each division advance to Bracket Finals*
Scholarship Money Awarded!
$120 Team Entry Fee
3 Divisions based on age:

U12 Division

: 8/1/2007 or later;

U15 Division

: 8/1/04-7/31/07;

U20 Division

: 8/1/99-7/31/04
Register Today!
---
---
Congratulations 2018 Champions
U15 – Team Strikes Happen – Jacob Villaronga, Anthony Mastroianni, Jared Maldonado, and Ramesh Persaud
U20 – Team Carried by Victoria – Nicholas Hollywood, Victoria Hollywood, Cameron LaPlant, and Luke Cherry
U15 Champion also earns an entry to compete in the 2018 USA Bowling Northeast Regional Tournament!
Rab's Youth Baker Classic Results