Bowling is Back!
As of August 17, 2020, Bowling Centers throughout New York State have opened, including your favorite, Rab's!
---
Latest Updates:
Key to NYC Vaccination Requirement
As of 9/13/21, Entertainment and Dining Establishments, including Rab's, in NYC require proof of vaccination by all guests ages 12 & Over.
Before proceeding with your reservation and your bowling experience, please make sure all guests in your party have received at least one dose of the COVID-19 Vaccination, and proof with valid ID will be requested upon arrival to Rab's.
Visit: https://www1.nyc.gov/site/doh/covid/covid-19-vaccines-keytonyc.page to learn more about the Key to NYC Program!
---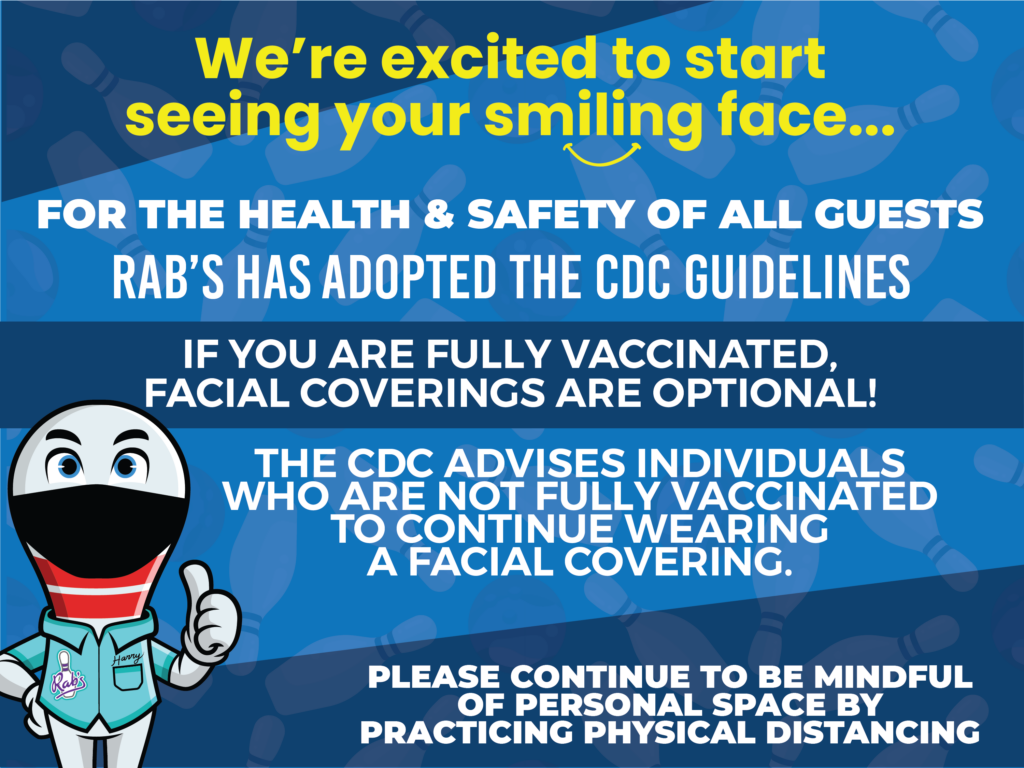 Rab's does recommend mask wearing by all guests. However, as recommended by the CDC, COVID-19 Vaccinated Guests do not have to wear their masks, and Non-Vaccinated Guests should wear their masks at all times. We truly appreciate your cooperation as we protect each other, together.
Effective May 19, 2021, Our 50% capacity limit has been lifted.  Every other lane will continue to be issued.  However, at peak times every lane will be used.
This new restriction impacts the regular business of Rab's Country Lanes in many different ways. Please visit bowlatrabs.com/blog for the latest details!
---
We are committed to continue keeping Rab's and our Community a safe and enjoyable place for all.
What to expect upon your visit to Rab's:
As of 9/13/21 – Upon arrival, all guests ages 12 & over will be asked for proof of COVID-19 Vaccination.  This mandate comes from the City of New York as part of the Key to NYC Program for all entertainment and indoor dining facilities.
All facility doors may be opened by utilizing the available

hands-free foot operated door handle

at the bottom of the door.
Guests should self-assess before coming to the center.  Please stay at home if you are feeling sick or unwell. If you have any symptoms, please wait 14 days before returning to Rab's.
Face coverings that cover the nose, mouth, and chin are recommended.  However, as recommended by the CDC, COVID-19 Vaccinated Guests do not have to wear their masks, and Non-Vaccinated Guests should wear their masks at all times. 
Wash and sanitize your hands often.  Sanitizer Stations are available throughout the facility.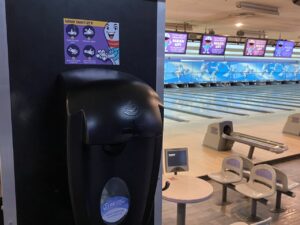 Rental Shoes and Bowling Balls are available from the Front Counter and you will hold onto your own shoes.  At the completion of bowling, please leave all rental equipment at the lanes to be sanitized for future use.
All areas are cleaned and sanitized at the end of your session

.

Bowling is a social recreation, and while you continue to be social, we ask that all guests spare some space by maintain physical distance and avoid physical contact with others.  Keep at least 6′ from other guests, groups, and Rab's Team Members. Look for signage and/or floor markings when waiting in line.
Reservations are Recommended! Reservations may be made by clicking the "Reserve" tab on our home page, or the "Reserve Your Lane Button" on the side of this page.  We recommend that upon arrival for your reservation, that you call to confirm that your lane is ready before entering the building.
Following these guidelines is what allows us to remain open, and for you to enjoy the sport that you love!