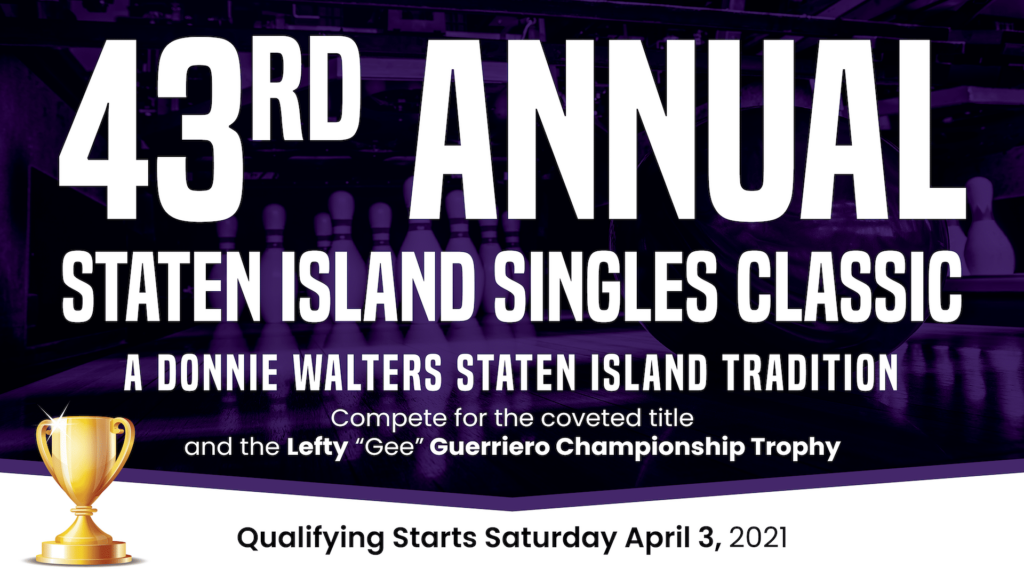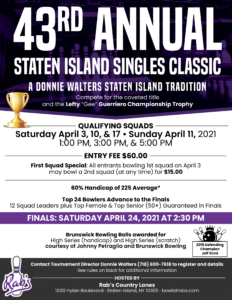 a Donnie Walters Staten Island Tradition
Open to all bowlers
Entry Fee: $60
* Opening Squad discount for re-entry, $15 re-entry with pre-paid entry into first squad.
60% Handicap of 225
Click Flyer for additional information, rules, and to reserve your spot in the first squad.
Qualifying is now over… Watch the best of the best compete for the elusive title on Saturday April 24, 2:30 PM!

Watch the Finals Live on our facebook page!
---
2021 Final Results
| Pos | Name | Prize |
| --- | --- | --- |
| 1 | Anthony Arias | $1,700 |
| 2 | Brandon Sach | $1,000 |
| 3-4 | Kelcey Fisher | $650 |
| 3-4 | Jeff Scire | $650 |
| 5-8 | Sean McAuliffe | $325 |
| 5-8 | Tom Hollywood | $325 |
| 5-8 | Adam Abdelaziz | $325 |
| 5-8 | Marco Recchia | $325 |
| 9-16 | Nick Handog | $220 |
| 9-16 | Jeff Martin | $220 |
| 9-16 | Nick DiTomasso | $220 |
| 9-16 | Chris Fisher | $220 |
| 9-16 | Mike Vlassenko | $220 |
| 9-16 | Billy Salvatore | $220 |
| 9-16 | Jose Martinez | $220 |
| 9-16 | Greg Mintz | $220 |
| 17-24 | Robert Jew | $100 |
| 17-24 | Tim McAuliffe | $100 |
| 17-24 | Dennis Brown | $100 |
| 17-24 | Karalyn Buono | $100 |
| 17-24 | Rich Funk | $100 |
| 17-24 | Greg Matera | $100 |
| 17-24 | Jason Wichnovitz | $100 |
| 17-24 | Mike Vignola | $100 |
---
Current Standings, going into the Finals
* Denotes: Squad Leader 
43rd Annual SI Singles Classic Finals Bracket
Place
Bowler
Scratch Series
Total
1
Adam Abdelaziz
817
829*
2
Brandon Sach
802
802*
3
Sean McAuliffe
802
802*
4
Kelcey Fisher
(Top Female)
770
800
5
Anthony Arias
798
798*
6
Jeff Scire
795
795
7
Marco Recchia
784
787*
8
Greg Mintz Jr
754
784*
9
Michael Vlassenko
(Top Senior)
755
770
10
Tim McAuliffe
767
767
11
Nicholas Handog
734
758
12
Jason Wichnovitz
756
756
13
Nicholas DiTomasso
705
756
14
Thomas Hollywood Jr
753
753
15
Michael Vignola
731
752
16
Chris Fisher
746
746*
17
Jose Martinez
662
743
18
Greg Matera
738
741*
19
Dennis Brown
697
739*
20
Jeff Martin
738
738*
21
Robert Jew
716
737
22
Billy Salvatore
732
735*
23
Karalyn Buono
728
731
24
Rich Funk
688
688*
---
Past Champions
Year
Champion
Bowling
Center
1978
Mike Rossman
Knotty Pine Lanes
1979
Bob Garzone
Knotty Pine Lanes
1980
Aaron Goldfeder
Knotty Pine Lanes
1981
Harry Lundgren, Jr.
Colonial Lanes
1982
Kenny Chin
Colonial Lanes
1983
Ray Laursen, Sr.
Strike City
1984
Bob Ambromowitz
Strike City
1985
Nick Colonna
Country Lanes
1986
Joe Tusa
Country Lanes
1987
Rob Carmelengo
Country Lanes
1988
Guy Caputo
Country Lanes
1989
Bob Spallone
Country Lanes
1990
Rob Vinci
Country Lanes
1991
Steve Chiarella
Country Lanes
1992
Rob Vinci
Country Lanes
1993
Chip Martarano
Country Lanes
1994
Gary Scalesci
Country Lanes
1995
Jeff Scire
Rab's Country Lanes
1996
Rob Vinci
Rab's Country Lanes
1997
Jerry Benedetto, Jr.
Colonial Lanes
1998
Pete Calise
Colonial Lanes
1999
Mike O'Brien
Colonial Lanes
2000
Jim Macri
Bowling on the Green
2001
Mike Parente
Bowling on the Green
2002
Ron Oliveri
Bowling on the Green
2003
Joe Stillman
Bowling on the Green
2004
Jeff Kubasak
Bowling on the Green
2005
Joe Aballo
Showplace
Entertainment Center
2006
Jason Starace
Showplace
Entertainment Center
2007
Sean McAuliffe
Rab's Country Lanes
2008
Ryan Friend
Rab's Country Lanes
2009
Gary Ricci, Jr.
Rab's Country Lanes
2010
Alan Liu
Rab's Country Lanes
2011
Joe Coniglio
Rab's Country Lanes
2012
Bill Salvatore
Rab's Country Lanes
2013
Ryan Friend
Rab's Country Lanes
2014
Clarence McClean
Rab's Country Lanes
2015
Michele Dash
Rab's Country Lanes
2016
Dan Dunleavy
Rab's Country Lanes
2017
Todd David
Rab's Country Lanes
2018
Jeff Scire
Rab's Country Lanes
2019
Jeff Scire
Rab's Country Lanes
2021
Anthony Arias
Rab's Country Lanes