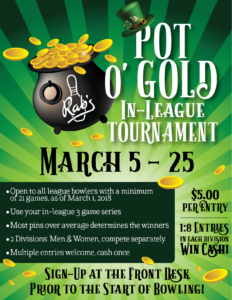 New for the 2017-2018 Bowling Season
Rab's Pot O' Gold
In-League Tournament
Your scores from league play will be used for this tournament!
Most Pins Over Average will determine the winners.
Three weeks of fun and chances to place!
March 5 – 25, 2018
Enter as many times as you wish, $5 per entry.
1 out of every 8 entries will win cash! 100% payout!
Men & Women will compete separately!
Cash only once.
Sign up at the Front Desk prior to the start of bowling!
Congratulations to all the winners!
459 entries, $2,295.00 in prizes paid to 58 bowlers!
Be sure to look for Rab's Pot O' Gold next season, only open to Rab's League Bowlers