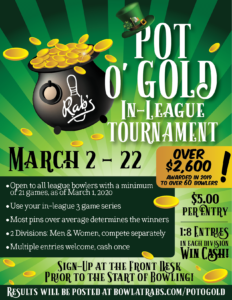 Rab's Pot O' Gold
In-League Tournament
is back for the 2019-20 Season!
Your scores from league play will be used for this tournament!
Most Pins Over Average will determine the winners.
Three weeks of fun and chances to place!
March 2 – 22, 2020
Enter as many times as you wish, $5 per entry.
1 out of every 8 entries will win cash! 100% payout!
Men & Women will compete separately!
Cash only once.
Sign up at the Front Desk prior to the start of bowling!
Congratulations to all the winners!
Although cut short in 2020, we had 432 entries and $2,160 in prizes paid to 56 bowlers!
---