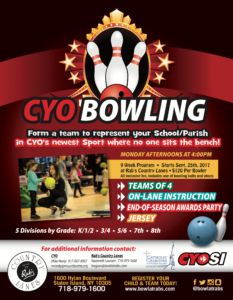 CYO and Rab's Country Lanes are proud to present CYO's newest sport, Bowling! We're looking forward to a great season and we are excited you found us here so you and your child can be a part of the inaugural bowling season!
Program details:
Bowling will take place every Monday, 4:00pm at Rab's Country Lanes.
The season starts September 25th and runs for a total of 9 weeks.
Teams of 4 bowlers will be formed representing your school/parish.
Competition will take place in 5 divisions: K/1/2 – 3/4 – 5/6 – 7th – 8th.
All student athletes will receive a Jersey and Recognition.
Registration Fee: $120 includes all of the above, plus use of bowling shoes and bowling balls during weekly play.
Click Here to Register Online!